After another incredibly entertaining and laugh-filled evening at CrackerJack Theatre last Monday night, with special guests -- The Making Box -- all the way from Guelph, ON. I finally got down to following up with my pals Em and Lindsay re: our shared CrackerJack experience on The Dating Game! 
As promised, here is the Q & A with Em & Lindsay! 
?: How did you end up being a contestant on Crackerjack Theatre's The Dating Game? What made you say "Yes" to Kenn?


E: Kenn is a friend of mine and when he approached me with the idea of a queer dating show I jumped at the chance. I am a researcher, an artist, and an activist, and my focus is Queer Studies. I want queer people to be represented whenever they can be. There have been so many heterosexual dating shows, I've never seen a queer one.

L: I was stage managing Kenn out at Homestead and he asked if I would be interested in participating in a Crackerjack show. I replied enthusiastically, so he explained that it would be the dating game. He asked if I was still game, and after a short pause I said "why not?" I'm pretty adventurous, and it's not often I'll say no to a challenge. 


?: Based solely on voice, describe (or better yet - draw!) what you thought Lindsay looked like before you met.


E: She sounded, funny, intelligent, and elegant. It didn't matter to me however what she potentially looked like, that was another great part of doing The Dating Game, part of my label is that I am sapiosexual. "Sapiosexual" is defined as: Attracted to intelligence or the human mind. I liked what Lindsay has to say.

When asked this question, Lindsay drew this: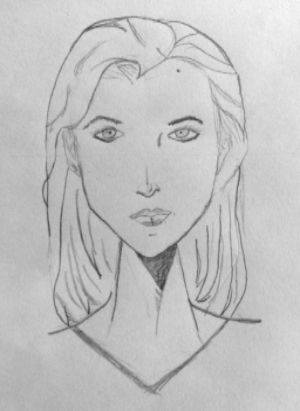 (So, Em, I think that means you sound sound pretty darn cute, too ;)) 
?: What was the moment just before the revel of each of the losing contestants like? Were we what you expected? 

E: Before the reveal I was excited and happy to be apart of something I think the audience seemed to enjoy. I was expecting one male and I was expecting Melanie. Very early into the Game I realized that I knew one of the contestants, not only by her self-summary but by her beautiful voice! The other contestant was male, as I assumed.

?: What was the moment just before meeting Em like? What were some of the thoughts that were circling around in your head?

L: "What have I done?" - I was walloped by anxiety when it came time to walk around the wall that had separated us during the show. Meeting someone new can be nerve wracking enough; doing it in front of an audience amplified it for me. It didn't seem real until that point in the show.
?: What was it from Lindsay's answers that made you choose her?
E: Lindsay had a great Tickle Me Elmo joke that was one of the funniest parts of the show. She also was a teacher and had read a great number of good books which is a quality I admire in anyone.

?: Aside from winning, what is your fondest memory from the evening?

L: I enjoyed getting to know the other two suitors by drinking and joking around with them before the show. It helped ease the tension and made it a fun night. I'd rather have comrades than competitors, and that's what it felt like.
?: Tell me about your first date? How did you prepare for the date?

L: It was fun -we went to The Food Forest for dinner and to my friend's CD release and after party. My prep for dates and interviews are pretty much the same: singing along to the radio while straightening my hair and sipping tea. 


E: Well I tried to look decent but otherwise I just went hoping to have fun. I tried my very best to be me on the date. We went to the Food Forest, a yummy vegan restaurant in Peterborough. Afterward we went to see Kate Suhr, an amazing Canadian singer/songwriter play at the Gordon Best Theatre. It was a fantastic evening!
?: What did each of you order at The Food Forest? At the Sapphire room? 

L: She had the taco salad and a cider (I think). We didn't make it to the Sapphire Room.


E: At the Food Forest Lindsay ordered a salad/sandwich combo and a gluten-free beer. We have not yet gone to the Sapphire Room (that's next!) but their martini menu is to die for, I can't wait to go. 
?: I saw you two at the Citiots Improv the following Friday night. Em, how did you like the show?


E: I've seen the Citiots only one other time (quite a while ago might I add) but loved them. Lindsay, however, is a very big fan so she suggested that we go. I, of course, happily accepted.


?: Lindsay, what was it like to get serenaded by Meghan Murphy in front of Em and everyone on your second date? 

L: Amazing! It was oodles of fun, and I enjoyed when Em got pulled up for a game later on in the evening. My face hurt from laughing that night!


?: Final question! Lindsay, describe Em in 5 words or less. 
L: Busy, inquisitive, creative, animated, fun


Em?
E: Stunning / Talented / Intelligent / Kind / Funny
or
Once in a life time.
⚡︎
Well, there you have it kids! 
DoYouKnowEllen? would like to thank Lindsay and Em for these thoughful and adorable answers.
Be sure to check out all of the neat stuff and places and people and events mentioned thoughout the interview (I mean, if you know what's good for you!)