The seasons are changing here in Canada and before we know it, the leaves will be fighting their last beautiful and chromatic fight before lining the sidewalks. Lets face it folks, sweater weather will soon be upon us. And while I can't help but mourn the Summer that seems to have flown by, I must say that I am looking forward to Fall. Not for the cold or pumpkin spice overkill, but rather for the fashion. The autumnal pallet is a rich, natural and gorgeous one with deep purples, burnt oranges and delicious browns in abundance. This season is great for pale girls like me, who couldn't get the sun to kiss her if she tossed a toonie in it's jar at the fair. I mean, I do ok. But I'm always going to look my best in the deep shades that fill the pages of fashion magazines this time of year.
I've been looking at my wardrobe a lot lately, having just done a purge of all the pieces that no longer (or never did) fit or flatter my shrinking yet still quite curvy figure. I've come to the realization that in my not too distant past, I had a terrible habit of purchasing clothing that fit, regardless of whether it suit me. If I could put it on my body and the price tag wasn't outrageous, I would buy it. Little to no questions asked. Sure, some were decisions that I made, but a lot were informed by the limitations born of a curvier girl not feeling like she could comfortably pull off what was being sold in stores. Not because I didn't have the confidence (trust me, I have plenty of that) but rather because in most shops, I was at the high end of the sizes available. If something was snug, oftentime there was no option to go up a size. This left me with a wardrobe full of clothing that didn't say anything in particular about my personal style, other than that I didn't really have one.
Since coming out, I've been a lot more conscious of my appearance. Not necessarily in a bad way but as a femme presenting lesbian, there have been instances of feeling invisible to my community despite my occupation of queer spaces. As much as I hate to admit that appearance holds any weight, when it comes to identifying and being identified by queer women, unfortunately it does. From head to toe, what we wear and how we wear it contains subtle (and not so subtle) signifiers of our inclinations, and only we have the power to curate those signifiers.
Here follows my latest attempt to curate my style, while simultaneously updating an older piece for the upcoming season. 


D.Y.K.E. D.I.Y: Wine Coloured Pants Edition


A few years ago, I picked up a pair of dusty rose jeans at my local Winners. Summer pant: shorter than most (but then again, so am I) which are meant to be rolled up at the cuffs. Lately, they've gotten pretty loose, but that isn't my main complaint. This colour does not flatter me. Honestly, no pale colour pant truly does. That being said, these pants are still in really great shape and it seemed a waste to get rid of them just because I purchased them in the wrong colour. There are ways of fixing things like that, after all… 


After doing a bit of Pinterest research and hitting up my local Michaels, I was ready to set out on my first pants dying adventure.

BEFORE
This photo doesn't quite capture the colour of the jeans before I dyed them, unfortunately. You can see the colour a little bit better below in the shot of them in the sink in Step 2.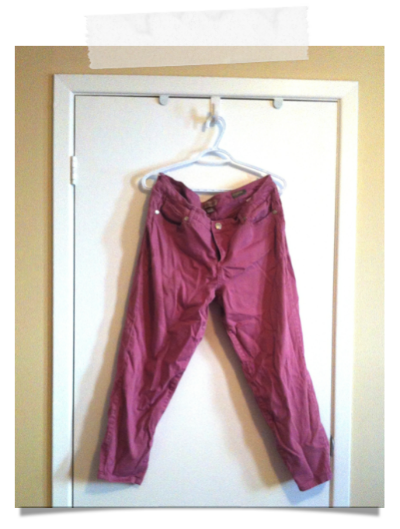 Here's how it went down, in case you want to do it yourself. 


What you will need:


a pair of pants in an unfortunate (for you) colour 

clothing dye in a colour of your own choosing

salt (or vinegar, depending on the kind of dye you buy -- always follow the instructions!)
gloves
your kitchen sink and/or bathtub
access to laundry machines
patience
Step 1: Read the instructions carefully and regardless of what I say/do below, follow them for your specific garment, based on what it's made of. My pants were mostly cotton, so I followed the instructions for that kind of fabric.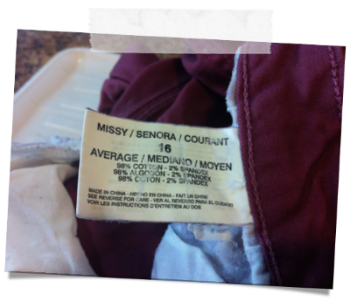 Step 2: Pre-wet your garment. 
Pro Tip: I set my jeans 

on the base of my dish rack to keep water off the counter while I was performing Step 3.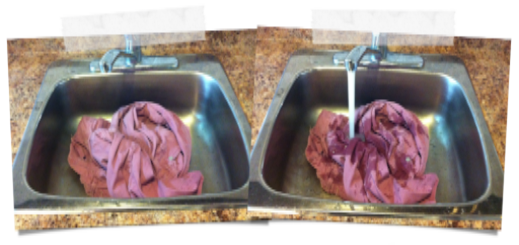 Step 3: Fill your sink with hot water. The instructions were a bit confusing/required me to measure things and so I just filled the sink half way. 


Step 4: For cotton, it said to add a cup of salt. I did not realize the bottle of liquid dye I bought needed another ingredient, but was lucky that I had almost an entire cup of salt.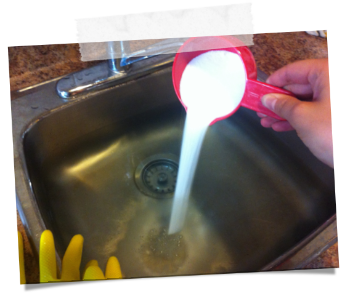 Step 5: Add your dye. I used Rit Liquid Dye in Wine.
Pro Tip: Watch closely, it looks really neat!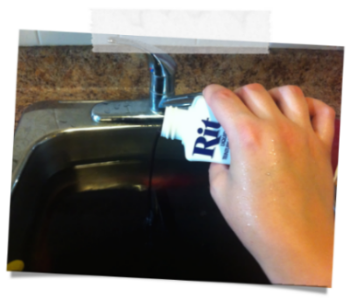 Step 6: Put on your gloves (any impermeable ones will do) and immerse your pre-wet fabric into the dye bath.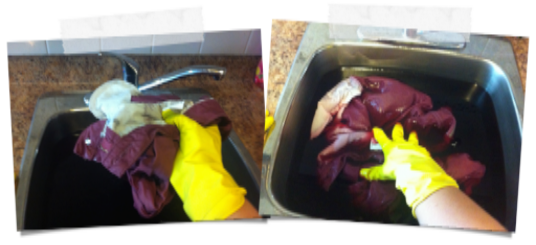 Step 7: Practice patience while stirring constantly for 30-60 minutes. Instead of stirring, I went for more of a kneading technique.
Pro Tip: Get on the phone with someone you make great conversation with to help pass the time! 


Step 8: Rinse your garment thoroughly until the water runs clear. This was probably the most difficult part. Even when I thought I had done a great job of rinsing in the sink, there was still so much dye when I moved to the bathtub for a quick rinse for good measure. The waistband was particularly saturated.

 I got tired of wringing with my hands that I decided to try a "wine stomping" approach, which seemed appropriate for this particular colour of dye.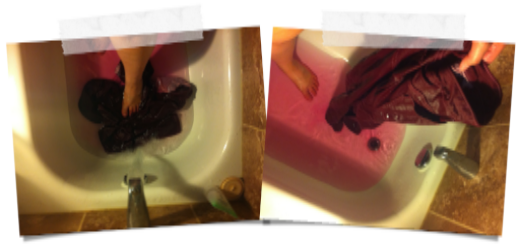 Step 9: Wash your garment in warm water and tumble dry. My building has coin laundry, so I had resigned to paying the $4 it would have taken to wash and dry these pants separate from any other laundry when the wonderful conversationalist who kept me company throughout Step 7 invited me to her place.
Pro Tip: Accept spontaneous hang-out invites from cute girls who have laundry machines in their apartments. 


Step 10: Netflix and chill while the laundry sorts itself out
AFTER
I think I expected a deeper colour based on how the pants looked while they were being dyed/when they were wet. That being said, I am very pelased with the way they turned out.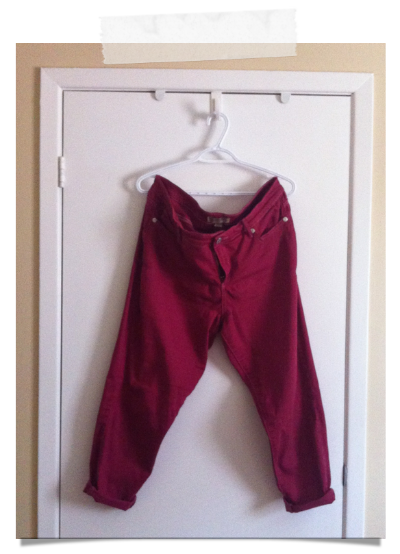 It worked really well that the jeans were already a pink colour because the pink stiching (which didn't really take the dye, likely a synthetic thread) stands out in a way that I quite enjoy.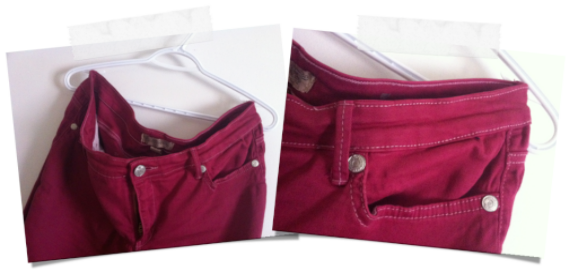 Comment below to let me know what you think of the new hue. And if you decide to try this out yourself, I want to hear about it!